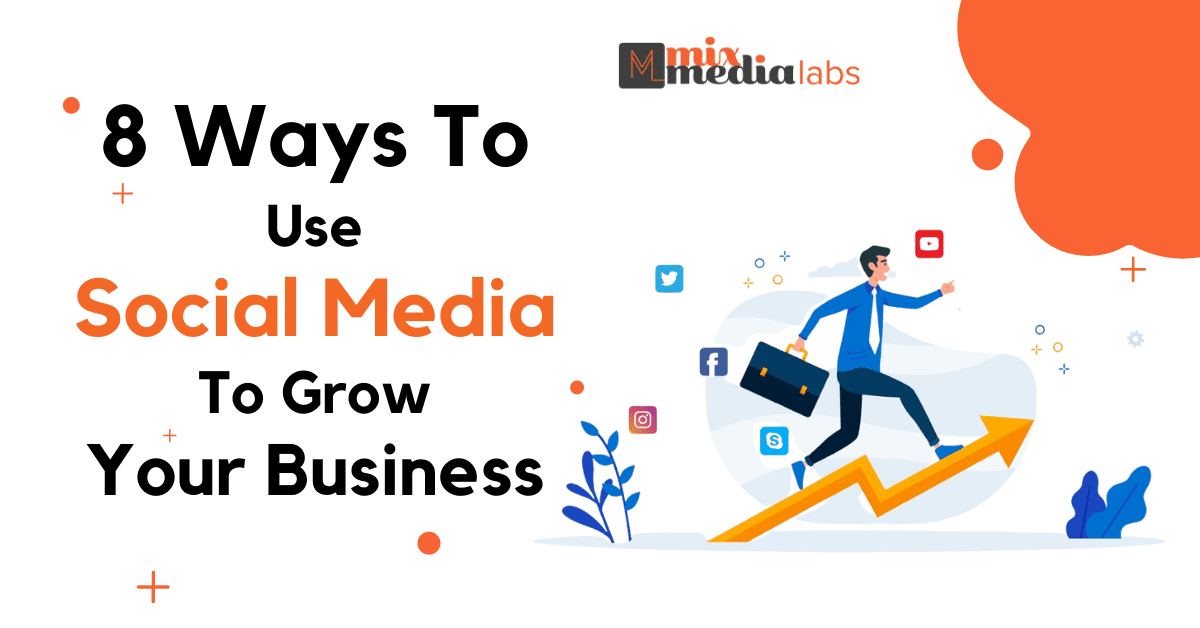 8 Ways To Use Social Media To Grow Your Business
Social media has become a key channel to stay in touch with your potential customers. It acts as an important bridge to reach out to a massive audience. Simply using a social media account for your business will not serve the purpose. Apart from this, an effective social media marketing strategy is necessary to generate significant results for your business.
Note down some points that may help you to enhance the audience interest in your business:
Your audience will never be the same on every Social Media platform. Therefore, it's pretty crucial to know your target audience. Moreover, you will get to know the needs and interests of your customers. Thus, you should follow up on these essential tips:
First, think about your brand and products.

Next, pulling these demographics, identify your target audience. 

And find out the social networks they interact with most.
2) Create shareable Social Media content
When you post content that inspires people or offers value to them, your followers will share it. As a result, it helps you to gain organically more followers. In this case, firstly, it's essential to know how to create shareable content that may attract customers to your feed.
In this paragraph, we'll come across the use of certain types of social media content that you may effectively use on social media.
Here are some popular ones:
High-quality articles

Inspirational posts

Funny memes

Product reviews

Videos

Screenshots

Client testimonials

Expert interviews

Case studies

Behind-the-scenes stories
3) Host Contests on Social Media
Hosting contests leads you to boost user engagement on social media. Moreover, it helps you to attract new customers. Through these contests, you offer something valuable to your customers. As a result, they get engaged with your brand. All you need is to create a pathway for your customers through these simple steps:
Offering random prizes to generate leads.
Ensure that your contest attracts target crowds
Encourage conversions by offering them a limited-time discount coupon.
The best part about competitions is that they are always fun. People enjoy having fun. Meanwhile, hosting good contests help you to generate good business leads.
You always need to track the performance of your social media posts and activities. Consequently, it will help you to recognize your top-performing content. Now, using paid ads will boost the reach of these posts. Moreover, it can help you drive more traffic and increase brand awareness. To get the most of this option of paid ads, you certainly need to keep these points in mind:
Social proof.
Use of attractive images.
Consider the psychology of your targeted customers.
Colors, themes, and messaging must be chosen wisely.
Run campaigns to meet the demands of specific consumer groups.
A/B test multiple versions of your social ad.
The most important secret behind your success is the high engagement of your brand with your customers. You must prefer hosting live videos with your customers in real-time. You can take an opportunity to answer their queries or share some special moments with them. For instance, you can share the milestones achieved and celebrate your success with your followers. In addition, you can also thank them for their love and affection.
Here are some great topics for live videos:
Introduction of a new product with its features
Tutorials
Livestream from a big event
Q&A sessions with your audience
Behind-the-scenes stories
6) Monitor your accounts daily
You should monitor your social media posts regularly. Go through the feedback of your followers. It's a great feeling when your followers praise you. But, unfortunately, the case is not always the same. However, it is crucial to reply to them publicly. It leads to a good impression as to how much you are aware of their needs and situations. Some important points to be noted while managing your social media accounts are:
Create a plan for handling your accounts
Always be communicative with your team.
For handling any issue, put yourself in the customer's shoes.
7) Leverage compelling CTAs
Well-placed CTAs can always help you encourage your potential customer towards taking the next step. For instance, they should engage your customers by prompting them to click on "learn more" or "shop now." Meanwhile, you can also compel them to take immediate action by promoting a flash sale for a limited period.
Therefore, you must ensure that your social media posts should always end with appropriate CTAs. That is to say, they should be relevant enough to fulfill the needs and interests of your audience.

These are some of the CTAs that popular brands use:
Like
Subscribe
Donate
Register
Buy now
Sign up
Learn more
8) Watch your competitors
Always keep an eye on the social media activities of your competitors. Try to analyze the different types of content that lead them to generate better traffic. You may even utilize their strategies to drive better results for yourself. These are some primary takeaways:
Observe your competitors
Try to find out what makes their content different.
Don't try to copy them.
Learn from them and customize your social media strategies for better results.
Thus, a well-planned social media strategy can help brands, organizations, and institutions to connect with their customers, raise awareness, and drive leads and business.
Visit our Social Media Profiles and Do Like, Share, Follow for More Updates