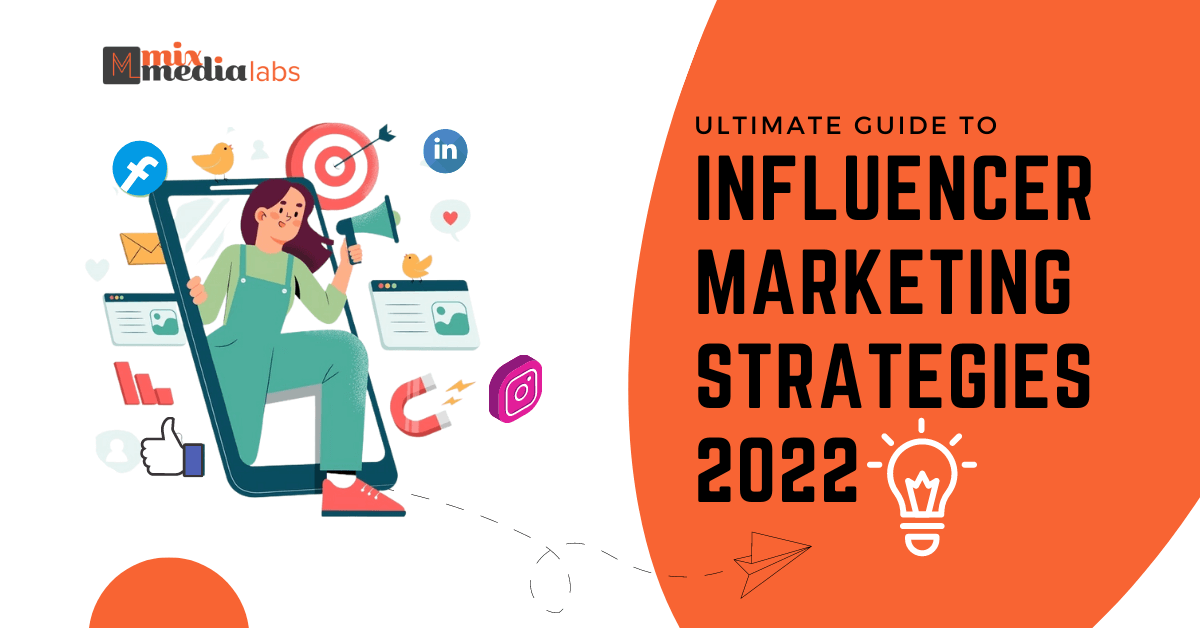 Influencer Marketing Strategies 2022
One may easily trace floods of influencer marketing strategies across all social media platforms. That is to say, hundreds of brands promote their products through well-known influencers on all of the social media platforms we have ever been to. Brands and businesses love to invite influencers to sponsor their products through traditional posts, evergreen Instagram stories, or even popular videos. 
Moreover, they are very well aware that customers equally interact with their influencers and ultimately follow their recommendations. Therefore, they take the Influencer Marketing Strategy into account to proceed further.
 If we consider deeply, anyone can be an influencer in this digital era. For instance, someone influencing even a single person through ideas or efforts could be an influencer. Similarly, if someone has even one follower, he holds the capacity to put an effect on him.
Most brands reach out to these influencers to promote their services through their Influencer Marketing Strategies. But, before going further, let's have a clear concept about Influencer Marketing.
What is Influencer Marketing?
Content creators and Influencers are of great help to brands and businesses. We know that social media are a second home to such influencers. So, for instance, if a brand wants to launch or promote a specific product, they reach out to some influencers on the internet who may have a considerable number of followers. Plenty of conversion and sales result from such an Influencer Marketing Strategy.
It may seem that Influencer Marketing is a new term introduced on the internet. Well, Influencer Marketing is no fresh flower in the tree of Marketing. Instead, it began 15 years ago. PayPerPost, which may not be familiar, was the first marketplace for such bloggers. Since 2006, Facebook and Twitter have held some Influencer Marketing Examples, whereas Instagram wasn't in the race until 2010.
YouTube and TikTok set one of the best Influencer Marketing Examples for those who love creating video content. On the other hand, Traditional blogging on Facebook is equally beneficial for long written posts. Above all, Instagram offers all of these options without much effort. That is to say, bloggers may ride their preferable way to establish goals.
Building an Influencer Marketing Strategy for Business
Now that you hold a brilliant concept about Influencer Marketing let's develop a step-by-step understanding of Influencer Marketing Strategy for a successful business. Since your goals are evident along the way, you will very quickly get into the path of progress. Now, it's high time to get into the world of basic yet magical strategies:
1. Set up your goals for the critical performance of your brand
As soon as you think of building a strategy, the first and foremost step should be to document your goals and stay focused. Your Influencer Marketing Campaign requires a clarification of goals probably before the idea of making sales. In other words, working with Influencers is not merely about promoting sales. Instead, it's more than that. Let's have a close look into the matter :
Leading a brand awareness campaign:
As soon as you think of building a strategy, the first and foremost step should be to document your goals and stay focused. Your Influencer Marketing Campaign requires a clarification of goals probably before the idea of making sales. In other words, working with Influencers is not merely about promoting sales. Instead, it's more than that. Let's have a close look into the matter :
Lead Generation By Influencers
All brands and businesses look for the lead generation now and then. Probably, working with an influencer may help you with getting leads. In the meantime, convincing the Influencers about the good part of your brand is considered one of the best Influencer Marketing Strategies. In other words, please explain how the product is beneficial to them. 
The Influencers are very sensible about their audience as having them was never an easy task. In the same vein, earning their trust was certainly tough enough. However, once the Influencer understands your mindset behind your campaign, he may further help you attract a new target market.
2. Research about the Influencer Landscape
After the goals part, the second thing striking into your mind is finding an Influencer. Subsequently, you must understand what kind of Influencers will take up your interest. Moreover, try to watch others in the industry and understand their views. Secondly, for the right Influencers, several platforms may surely help you. For Instance, InfluenceGrid is helpful for TikTok Influencers, and Awario leads you for several other platforms. That is to say, you need to find a pearl out of the ocean to promote your brand. 
Take some time to observe Influencers before assuring the perfect one for your Influencer Marketing Campaign. Understand the world of micro-influencers, macro-influencers, and celebrities. But, try to avoid stars as their engagement rate is meager. Most importantly, try to be well-informed for better performance of your brand.
3. Connecting with Influencers
Once you are on track, it's high time to try connecting with the Influencers that will help you out for your Brand Awareness Campaign and the publicity of your product. For instance, it may happen through emails, which are undoubtedly the best option for sharing your relationship and your brand. Firstly, you must introduce yourself and your brand. But, do remember that the meat and the potatoes must be about them. 
Meanwhile, do not forget to share the link through which they can connect to you. Now, if they are interested in your brand, they will indeed find their own time to research your brand.
4. Negotiate with Influencers
Once you find your perfect partner for your brand, it's high time to negotiate the terms and plans with him. Subsequently, try to understand the details and type of content they will create for your brand. It would be best if you gave them creative freedom. Also, make him understand your terms through exchanging emails back and forth. Now, negotiation doesn't only mean the exchange of money. Meanwhile, it may also include providing your product to use and understanding your insight. 
Once you think about the role reversal, i.e., what would you expect of a brand if you were an Influencer?
5. Put the plan into motion
The most crucial part of Influencer Marketing Strategy involves lining up the perfect plan onto the track.
Stay tuned with the Influencer to discuss live content and the timeline required for all Influencer Marketing Platforms.
Further, you may send your product to the Influencer and discuss sharing its pictures with its followers to make them recognize your brand.
Moreover, he can post some details of the effect regarding his viewpoint about the product.
6. Stay organised to track results for your Influencer Marketing Strategies
When you are off to execute the plan, the only critical part to follow up regularly is to stay organized to track results. For instance, if the Influencer is sharing video content relating to your product on YouTube, he should mention a UTM Code at the end of the description. A UTM code is a simple code or link that allows us to track the results of such Influencer Marketing Campaigns as soon as the visitor clicks on the link.
Do remember that association with an Influencer is still a relationship. So, try to uplift each other. Ultimately, managing the relationship will help you with better results for your product. To sum up, Influencer Marketing Strategies are pretty helpful in increasing sales, following business growth, and simply making the right word for your business.
Visit our Social Media Profiles and Do Like, Share, Follow for More Updates